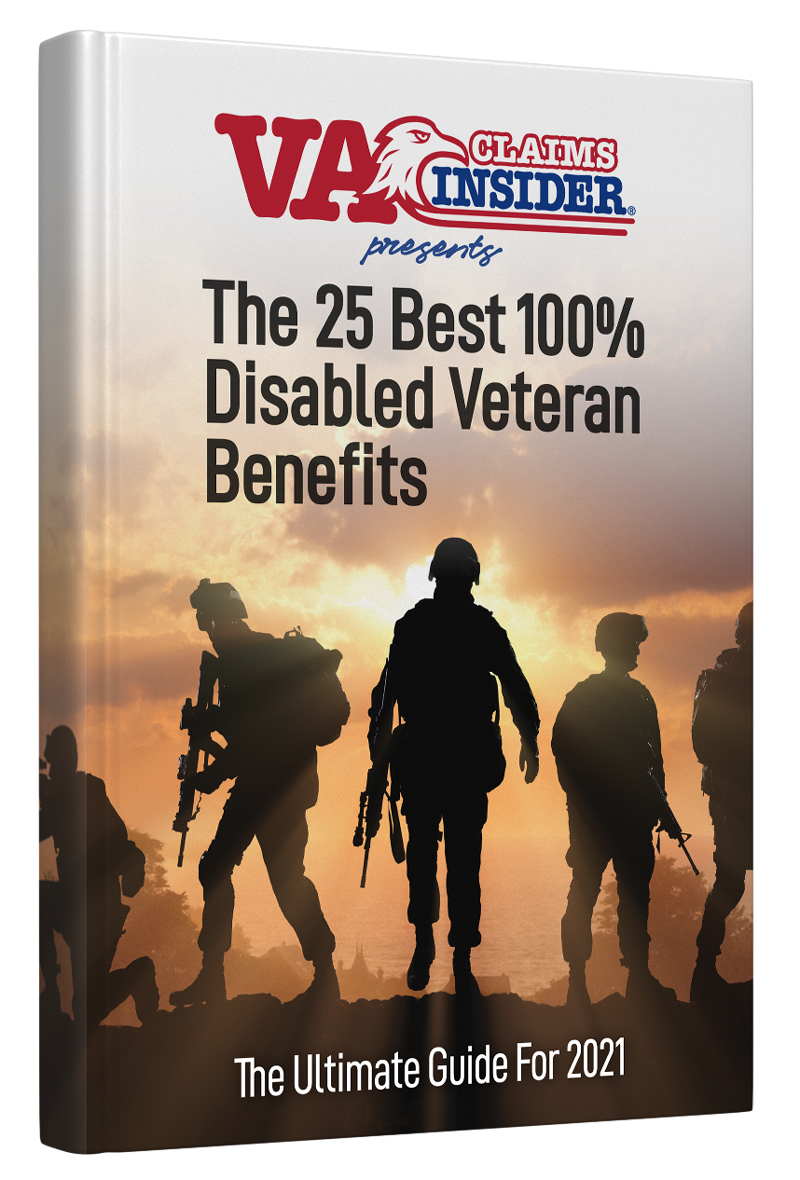 Your FREE guide will be sent to the email entered above.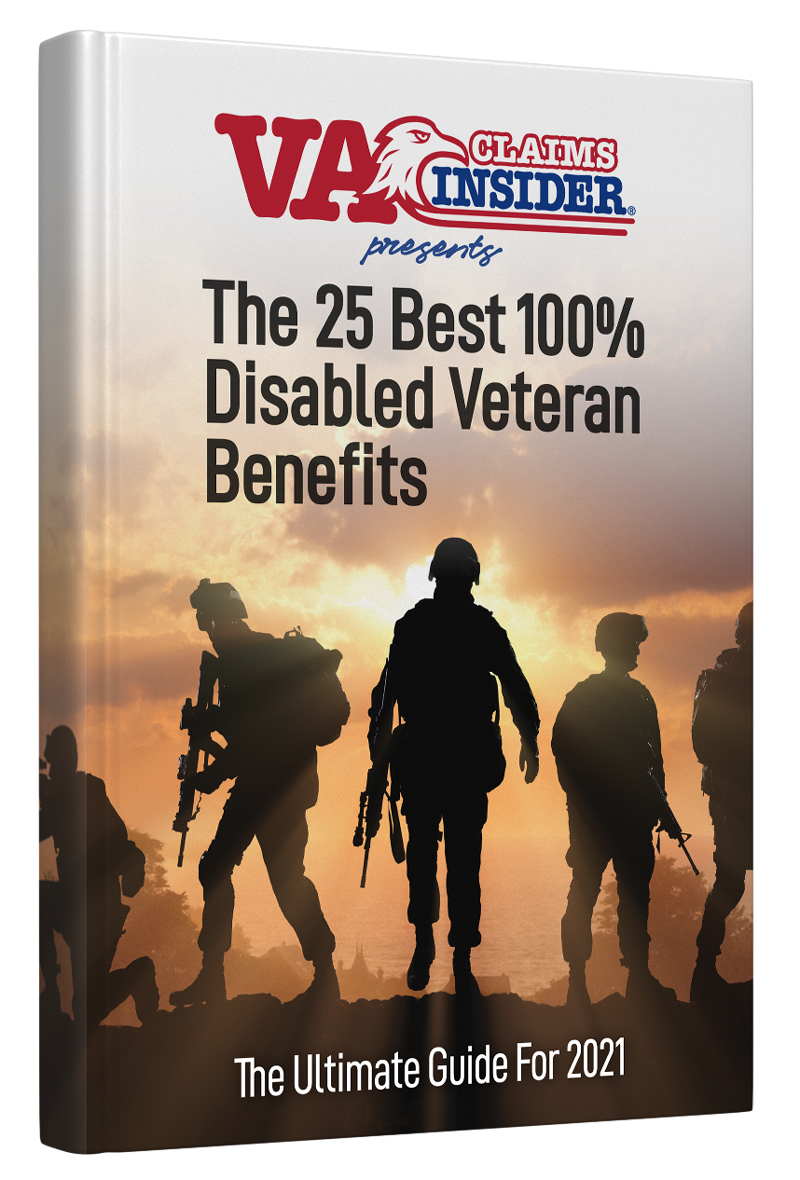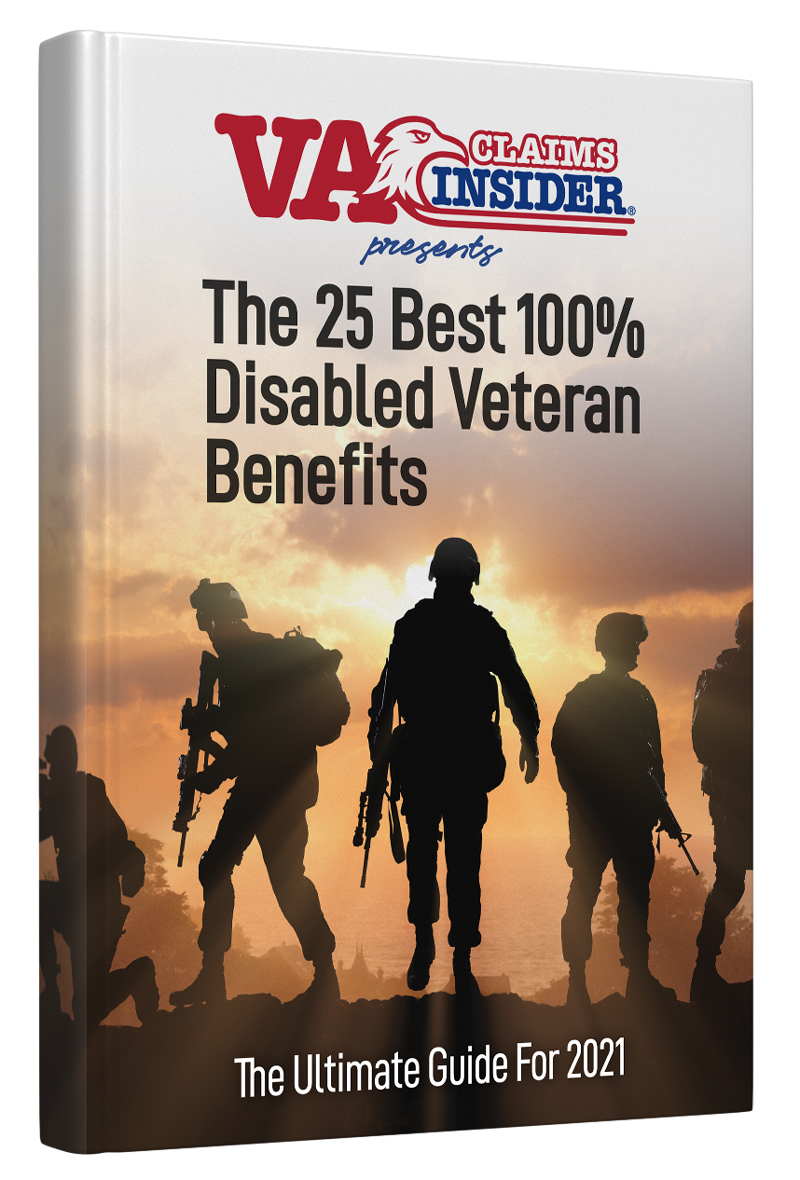 The scoop on how to get the best benefits
and compensation available only to 100% disabled veterans, including:
Free health care and medications
VA Home Loan funding fee waivers
Total Disability Individual Unemployability
Special Monthly Compensation
State property tax exemptions
Concurrent Disability and Military Pay
Chapter 1
In this post, we will be covering the 25+ Best 100 Percent Disabled Veteran Benefits in detail, along with tips, strategies, and lessons learned to help veterans get the VA disability benefits you've earned for your honorable service.
We've also compiled a complete list of the top 100 percent VA disability benefits for veterans in 2021 along with action-steps so you know "HOW" to get them.
In our experience at VA Claims Insider, many disabled veterans with a 100% VA rating don't realize the incredible state and federal benefits they qualify for by law.
This means you could be missing out on thousands of dollars of VA disability benefits you deserve for you and your family.
Alright, let's explore some of the incredible state and federal benefits available to veterans with a 100 percent VA disability rating.
To continue reading, download the book!
There are special benefits available especially for 100%-disabled veterans—but you might not be aware of them!
Many veterans don't know about the special benefits available only to those who are rated 100% disabled by the VA. If you're a 100%-disabled veteran, or know someone who is, you deserve every benefit! Don't miss out on any of the discounts, exemptions and special compensations you're due.
Get your guide now and start taking advantage of your top benefits!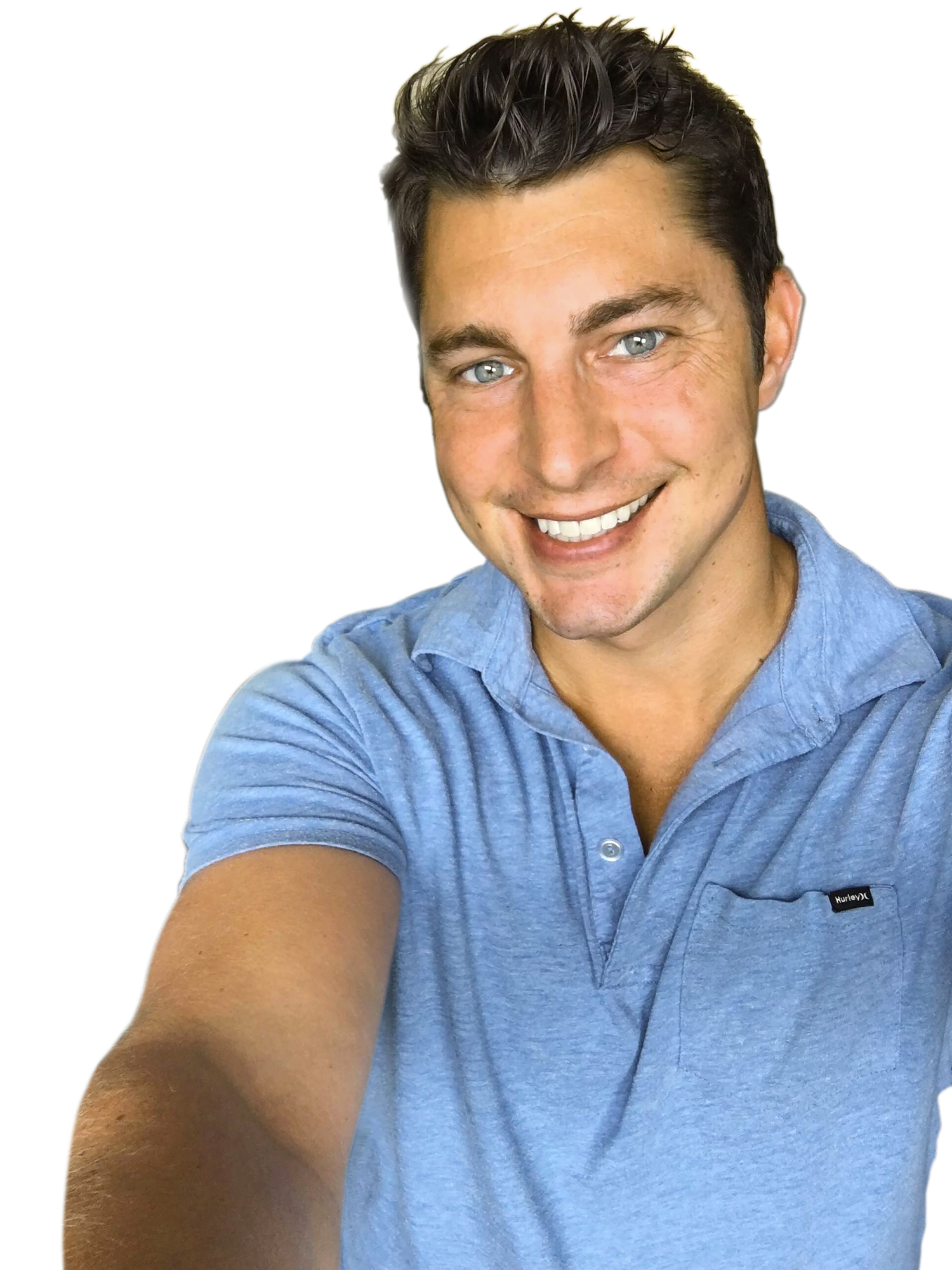 Brian Reese is a VA disability claims expert and founder of VA Claims Insider: "The Most Trusted Name in Education-Based Resources for Veterans."
Brian's frustration with the VA disability claim process led him to create VA Claims Insider, which provides disabled veterans with tips, strategies, and lessons learned to win their VA disability compensation claim in less time. 
He is also the CEO of Military Disability Made Easy, which is the world's largest searchable database for all things related to DoD disability and VA disability, and has served more than 6,000,000 military members and veterans since its founding in 2013.
Founder & CEO
Air Force Disabled Veteran

25 Best 100% Disabled Veteran Benefits
Download our FREE Ebook!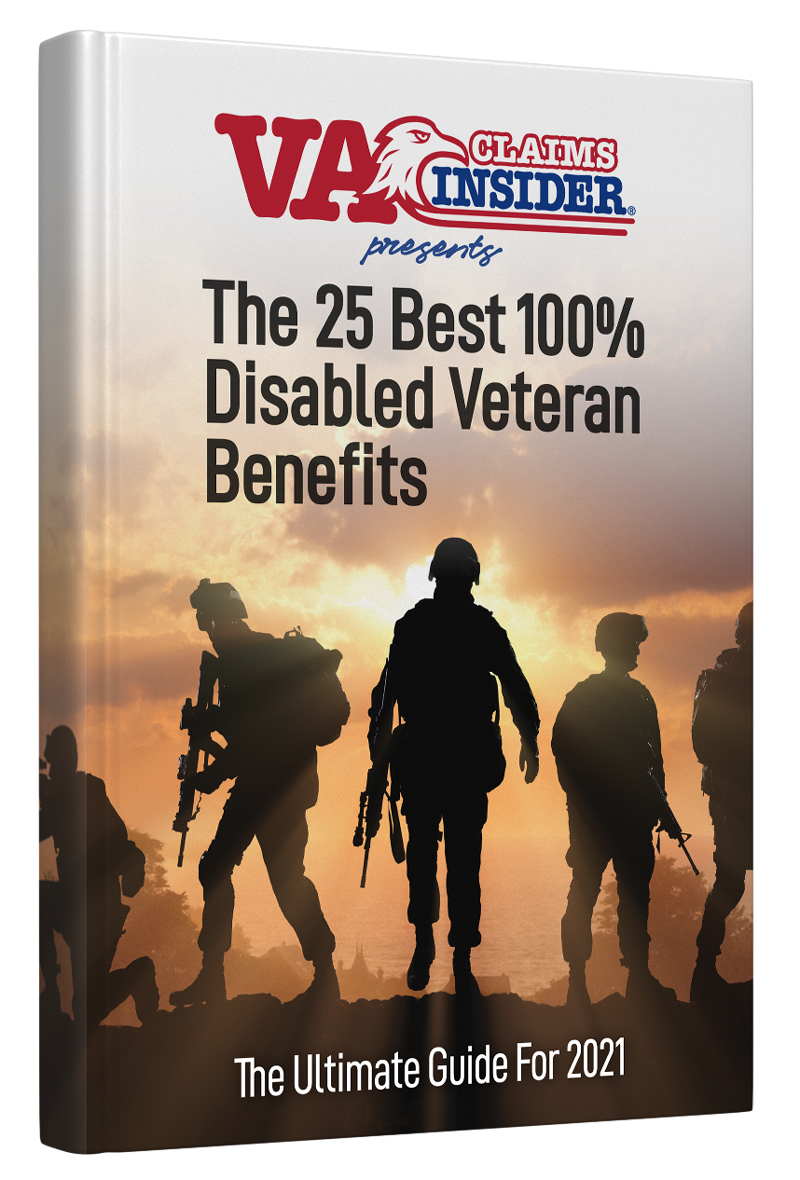 Act Now Before Time Runs Out!
*The FREE guide will be sent to the email address you submit above!
This guide does not contain medical advice. The contents of this guide, such as text, graphics, images and other material are intended for informational and educational purposes only and not for the purpose of rendering medical advice. The contents of this guide are not intended to substitute for professional medical advice, diagnosis or treatment. Although we've taken efforts to keep the medical information in this guide updated, we cannot guarantee that the information listed herein reflects the most up-to-date research. Please consult your physician for personalized medical advice. Always seek the advice of a physician or other qualified healthcare provider with any questions regarding a medical condition. Never disregard or delay seeking professional medical advice or treatment because of something you have read in this guide. In a medical emergency call 911 immediately. VA Claims Insider, LLC does not recommend or endorse any specific test, physician, product, procedure, opinion or any other information provided in this guide. Reliance on any information provided by VA Claims Insider, LLC, and/or the contents in this guide is solely at your own risk.